Personal EMF Protection, Cell Phones, Wi-Fi, Tablets, Laptops, Desktops, Smart Meters, Cell Towers
Household Wiring, Appliances, Vehicles, Geopathic Stress, Personal Energy Field Enhancement, Shielding and Meters
Cellular Phone Tab
A new Cell Phone Tab with enhanced performance. This flatter, modern, and sleek design compliments any cell phone or small electronic device which transmits a wireless frequency and radiates an electromagnetic field.
What is the Cellular Phone Tab used for?
Cellphones
Smartphones
Cordless phones
Small tablets and e-readers
Bluetooth headsets and other wireless computer peripherals
Streaming sticks (such as Amazon Fire)
Digital audio mp3 players (such as an iPod)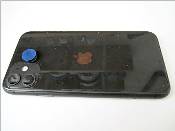 How is it used?
The Cellular Phone Tab can be adhered (adhesive pads included) to the back of any cellphone, smartphone, or cordless phone behind the earpiece or speaker. It can also be adhered centrally to the top of a phone if space permits.
The Cellular Phone Tab can also be adhered to a phone's case, as long as the phone is in its case when in use.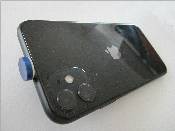 The Cellular Phone Tab can also be adhered centrally to the back of a small tablet, or adhered to its case.
For Bluetooth headsets adhere one Cellular Phone Tab to the outside of each earpiece.
For cordless phone base stations use a 3-Hole Resonator.
Measures approximately 1/2″ by 3/16″ (14mm by 5mm) with adhesive pad
30-Day Money-Back Guarantee
Never wears out
Extra adhesive pad including for when you change your phone
Instructions included
Made in the USA
Please contact us if you have any questions
$20.00
When you click on the Add to Cart button your shopping cart will appear at the top of this page. If you wish to add more than one Cellular Phone Tab click again on the Add to Cart button. If you add a product to the shopping cart on this page it will appear in the cart at the top of each further product page you visit on this website, and will update if you add more products to it.
If you change your mind you may edit your shopping cart before checking out.
We use PayPal to process payments. You can either pay with your PayPal account or pay with your debit or credit card. 
A flat charge of $7.00 will be added during the checkout process for shipping, irrespective of the number of products ordered.
Please follow us on Facebook