Personal EMF Protection, Cell Phones, Wi-Fi, Tablets, Laptops, Desktops, Smart Meters, Cell Towers
Household Wiring, Appliances, Vehicles, Geopathic Stress, Personal Energy Field Enhancement, Shielding and Meters
Crystal Catalyst Pendants
What are the Crystal Catalyst Pendants for?
These beautiful Crystal Catalyst Pendants have been designed to positively affect the personal energy field to address specific issues and concerns, and to help attract specific situations into a person's life. All nine pendants can also help to give protection from the harmful nature of electromagnetic radiation, especially the Frequency Harmonizer Pendant (see list below). Three of the pendants listed below, the Serenity, Physical Balancer, and especially the Breathe Easy, are recommended at this moment in time.
How are they used?
For the greatest benefit against electromagnetic radiation each Crystal Catalyst Pendant should be worn around the neck (cord not included), so that the pendant falls over the thymus area, halfway between the throat and heart. This also applies to the Breathe Easy Pendant. The pendants can also be placed in a pocket or pouch, as long as they stay close to the body, and in contact with your energy field.
The Crystal Catalyst Pendants make a highly unusual and attractive piece of jewelry and decorative fashion accessory and are suitable for both men and women.
What are they made from?
Each Crystal Catalyst Pendant is made from a combination of purposely dowsed gemstones placed in a specific order, along with the addition of a Crystal Catalyst Personal Protective Bead (not sold separately).
How do the Crystal Catalyst Pendants work?
The combining of gemstones for a specific purpose was known in ancient cultures. Our Crystal Catalyst Pendants take this ancient knowledge a step further by the addition of the Personal Protective Bead, which has been shown through dowsing to double the output of the subtle energy of the gemstones. The Personal Protective Bead is wholly made from an advanced ceramic material called Crystal Catalyst, which produces a special resonance that also helps strengthen the body against electromagnetic radiation and other harmful environmental energies, such as geopathic stress.
Crystal Catalyst does not block electromagnetic frequencies but instead works by altering their nature before they strike the body, thereby helping to mitigate their damaging effects.
Browse through the Crystal Catalyst Pendants from the list below. You can place an order for one or more of the pendants at the bottom of the page:
Emotional Balancer
Enhances the etheric body of those who feel nervous or are suffering from a broken heart.
Contains Amethyst, Lapis Lazuli, Green Jade, Rose Quartz, Tiger Eye, Carnelian, Red Jasper, Turquoise Crystal Catalyst Bead.
$40.00 – scroll down to order
Physical Balancer
Strengthens physical energy. Removes blockages to physical stamina. In addition to other protocols, this pendant may support you in maintaining a strong physical body in general, and especially during stress-filled times in the outer world.
Contains Amethyst, Lapis Lazuli, Turquoise, Malachite, Tiger Eye, Carnelian, Red Jasper, Turquoise Crystal Catalyst Bead.
$40.00 – scroll down to order
Serenity
For people who require a state of calm. Can help calm your mind during a crisis. The Serenity Pendant is recommended for those desiring a return to a peaceful consciousness in the midst of turmoil and uncertainty.
Contains Aventurine, Moss Agate, Quartz Crystal, Turquoise Crystal Catalyst Bead, Rose Quartz, Amethyst.
$40.00 – scroll down to order
Universal Harmony
Radiates balanced energy all around. Puts the wearer at the center of a beautiful harmonic field, surrounded by harmony wherever they may be.
Contains Jet, Turquoise Crystal Catalyst Bead, Malachite, Tiger Eye, Jasper, Howlite.
$40.00 – scroll down to order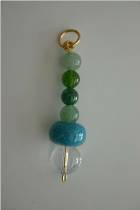 Prosperity
Gives a feeling of well-being, wealth, and wisdom. Creates a cheerful, optimistic outlook that enables the wearer to take advantage of opportunities that might otherwise be missed.
Contains Aventurine, Green Jade, Malachite, Aventurine, Turquoise Crystal Catalyst Bead, Quartz Crystal.
$40.00 – scroll down to order
Personal Protective
Gives the wearer a feeling of being centered and balanced. Outside influences have no effect. Protects against negativity.
Contains Red Jasper, Tiger Eye, Cobalt Crystal Catalyst Bead, Jet, Green Jade.
$40.00 – scroll down to order
Breathe Easy
For those who suffer from cardiopulmonary insufficiencies. Originally created in the early 70s, this pendant was the first of a series of custom made "gemstone battery" pendants known as Crystal Catalyst Pendants; the Breathe Easy pendant was specifically designed as a response to real-life circumstances, to provide the wearer with a vibrational, energetic defense against exposure to seasonal illnesses.
Contains Carnelian, Tiger Eye, Lapis Lazuli, Turquoise Crystal Catalyst Bead, Carnelian Agate, Red Jasper.
$40.00 – scroll down to order
Speaker's Special
Gives confidence to those who do public speaking, presenting classes, workshops etc.
Contains Carnelian, Tiger Eye, Lapis Lazuli, Turquoise Crystal Catalyst Bead, Turquoise, Yellow Jade, Lapis Lazuli.
$40.00 – scroll down to order
Frequency Harmonizer
Useful for relieving feelings of distress caused in some persons by a wide range of environmental frequencies, in particular, electromagnetic radiation. This pendant is recommended for those who are particularly sensitive to emf and when wearing a Personal Protective Pendant or carrying a Pocket Resonator may be too powerful.
Also protective against negativity.
Contains Lapiz Lazuli, Turquoise, Carnelian Agate, Cobalt Crystal Catalyst Bead, Amber, Red Jasper.
$40.00 – scroll down to order
Pendants measure from one and one-quarter inches to two inches in length and vary in gemstone combinations, according to which is ordered
30-Day Money-Back Guarantee
They never wear out
Instructions included
Made in the USA
When you click on the Add to Cart button your shopping cart will appear at the top of this page. If you wish to add more than one Crystal Catalyst Pendant click again on the Add to Cart button and choose from the drop down menu. If you add products to the shopping cart on this page they will appear in the cart at the top of each further product page you visit on this website, and will update if you add more products to it.
If you change your mind you may edit your shopping cart before checking out.
We use PayPal to process payments. You can either pay with your PayPal account or pay with your debit or credit card. 
A flat charge of $7.00 will be added during the checkout process for shipping, irrespective of the number of products ordered.
Follow us on Facebook